---
---
| | |
| --- | --- |
| Mac Spider is a full featured, fun, and challenging spider solitaire game designed from the ground up exclusively for Macintosh computers. Mac Spider supports full hi-def resolution (1920x1080) for extra-large, beautifully rendered and easy to read cards. Universal binary supports Mac OS X on both PowerPC and Intel Macs. | |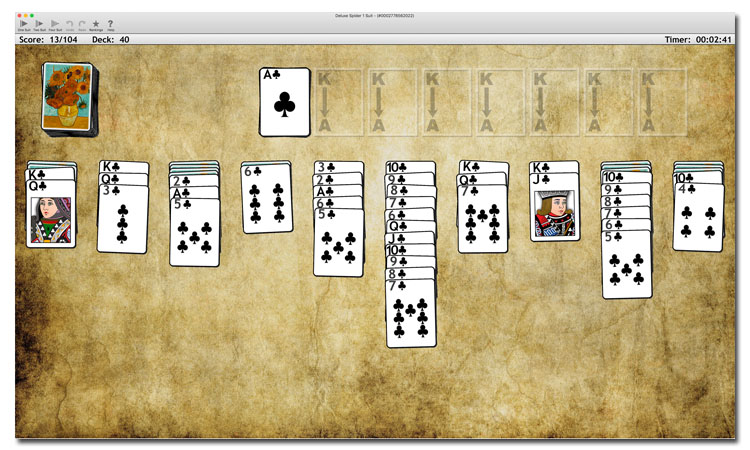 Mac Spider with the Kona sunset appearance theme.
Mac Spider has multiple built in deck sizes to suit virtually all display sizes. The best size is calculated based on the game window size. Game window sizes are dynamic and can be changed anytime while playing. The window and card size will reconfigure themselves without interrupting the game. Drag the window to its maximum 1920x1080 size and the card size will increase.

Actual Mac Spider Cards. All of the cards are large, sharp, and vibrant for easy reading.
Mac Spider will take advantage of larger displays, but will work equally well on Macs with smaller displays, such as MacBooks and MacBook Airs.

Mac Spider appearance window.
You can configure virtually all aspects of the game appearance to suit your particular tastes. Simply select "Appearance" from the Mac Spider Options menu. You can change the game background, card backs, card highlight color and the suit appearance.
Mac Spider follows the classic 104 card spider solitaire rules with either one, two, or four suits. One suit is relatively easy to win, two more challenging, while four suits can be very challenging. There is button in the game toolbar for each option.

Mac Spider high scores window.
Mac Spider has the ability to track the best times for one, two, and four suit games. Scoring is optional. If you would prefer to not track the best times then simply uncheck "Track Best Times" from the Mac Spider Options menu. When scoring is enabled, the best times for each game type will be recorded along with the player name and the unique game number associated with the game.

Mac Spider game number window.
The game number window allows you to replay any game using its unqiue game number. You can replay with one, two, or four suits, regardless of how the original game was played. The game number will appear in the window title bar each time a new game is dealt. This number can always be used to reference that particular layout.
Mac Spider is a challenging game, so you will sometimes reach dead ends. If you do reach a dead end, then just try the exact same game again by replaying the game number. Mac Spider can also undo and redo and unlimited number of plays. In fact, you can undo all the way back to the start of the game, regardless of the number of plays that you have made.

Mac Spider game statistics window.
Mac Spider also has a statistics option. Like scoring, statistics tracking can be turned on or off via the Options Menu. Separate statistics are tracked for one, two, and four suit games. The pie charts also give a quick visual indication of the wins versus losses.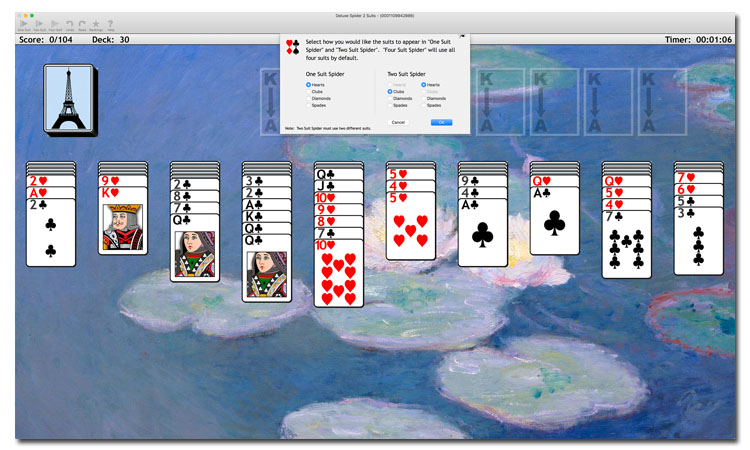 Mac Spider highlighting.
Mac Spider can also highlight all available plays as well as same suit builds. Each can be highlighted alone or both can be highlighted simultaneously. Highlighting can be done with the secondary mouse button or the keyboard. If you need a hint then just press the secondary mouse button or the OPTION key to highlight each card that can be played.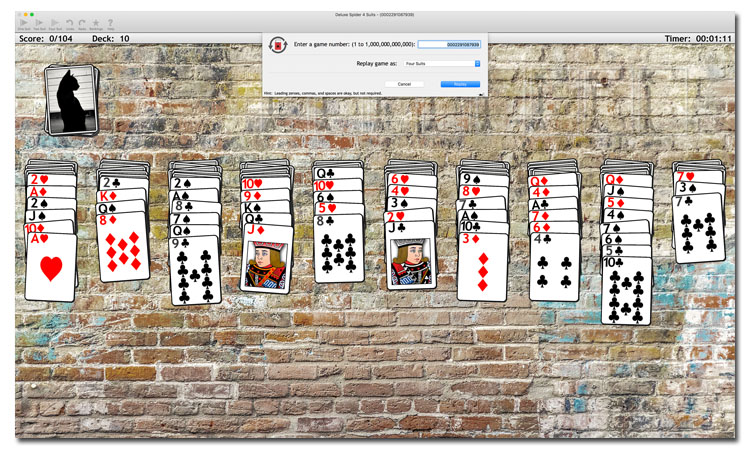 Mac Spider screen shot.

Mac Spider has many more features and options. Download a free trial and start playing right now. No email address or other personal information is required to download a free trial. Mac Spider requires Mac OS X. It will NOT work on Windows, iPads, iPhones, or iPods.